Best Discord Music Bots You Can Use
Discord has established itself as the best gaming chat service in the industry. Thanks to its easy to use user interface and feature set, no other game chat service can match its prowess. One of the biggest features of Discord is its ability to integrate bots which cannot only help automate things but also perform actions which are not possible natively. My favorite Discord bots are the music bots which allow users to play music in the background while the whole community is chatting with each other.
1. Fredboat
One of my favorite discord music bots is the Fredboat which is a powerful music playing bot that supports a number of different websites. FredBoat can play music from YouTube, Soundcloud, Bandcamp, direct links, Twitch, and more. I also love that Fredboat supports playlists which allows me to set a playlist and let the songs play without having to set a song whenever the last one ends.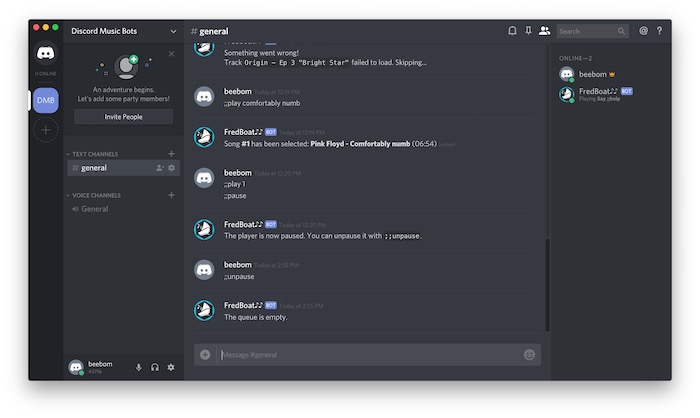 Another cool feature of Fredboat is its search functionality. Instead of adding links from YouTube or Soundcloud you can simply search for the names of the songsthat you want to play. Fredboat will give you five different options and then you can select the music that you want to play. Finally, Fredboat is open-source and secure which makes this quiet trustworthy.
2. Rhythm
Rhythm music bot for Discord is another one of the best Discord music bots that you can find. Just like Fredboat, Rhythm supports multiple streaming sources including YouTube, Soundcloud, Twitch, and more. One of the unique features of Rhythm is its ability to automatically queue songs from your playlists once your current queue is empty. To play songs, you can either directly input the links of the songs or search for them using the search command.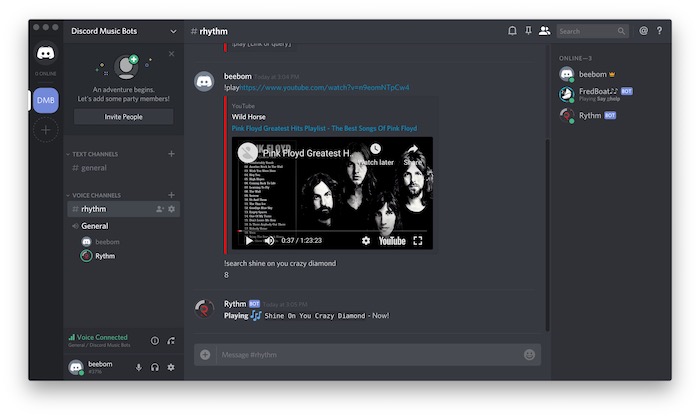 The commands are easy to remember and you won't have any difficulty in using this bot. Finally, I also love the fact that Rhythm can show you the lyrics of songs that are currently playing or any other song for that matter. There's one problem that I discovered while using Rhythm and that's the fact that it only works in voice channels and not text channels so if you're looking for the best Discord music bot for a text channel, you can check out Fredboat, or other Discord music bots that I'm mentioning below.
3. Groovy
Groovy is an easy to use music bot for Discord which supports YouTube, Spotify, Apple Music, and many more sites. Its Spotify integration is especially impressive as not many Discord music bots can claim this feature. Like the above two bots, Groovy allows you to play songs by either searching for it or just inputting its name or link.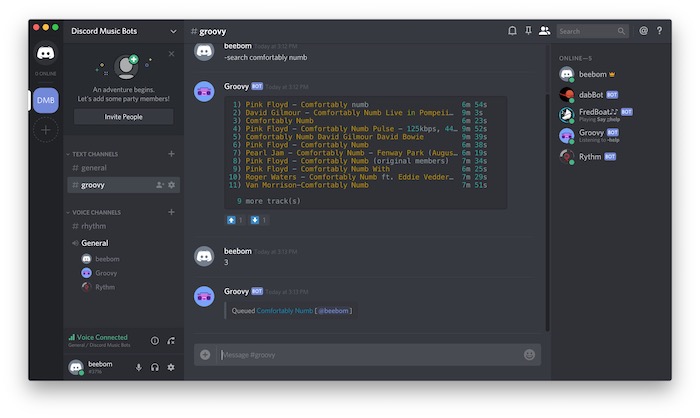 The different functionalities that Groovy supports include play and pause, song search, lyrics search, song loops, removing songs from a playlist, shuffle songs in the playlist, and more. I have enjoyed using this music bot very much and recommend to everyone who is looking for a feature rich Discord music bot.
4. ErisBot
ErisBot is a powerful Discord music bot which is easy to use and brings highly configurable commands. One of the biggest features of ErisBot is that it allows you to create and use your own custom prefix for commands, a feature that most other Discord music bots don't support. One thing that I noticed while using ErisBot is that sometimes it fails to parse the YouTube links and start playing the video instead of just audio, so that's something you'll have to deal with if you're using ErisBot. Apart from that, I had no problem while using ErisBot for playing music and I recommend this bot to anyone who is looking for a capable music bot.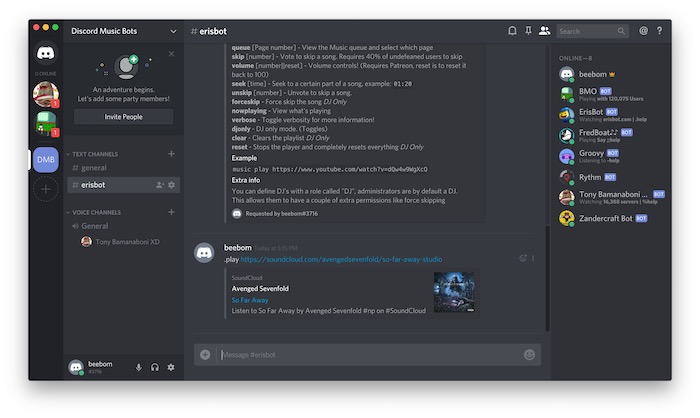 5. Tony Bamanaboni XD
The name of this bot might be hard to pronounce, but the bot itself is pretty easy to use. The bot does everything that you'd expect from a Discord music bot which means that it can play/pause music, search for music, queue music, create auto-playlists, and more. It also supports all the usual music sources including YouTube, Soundcloud, Bandcamp, and more.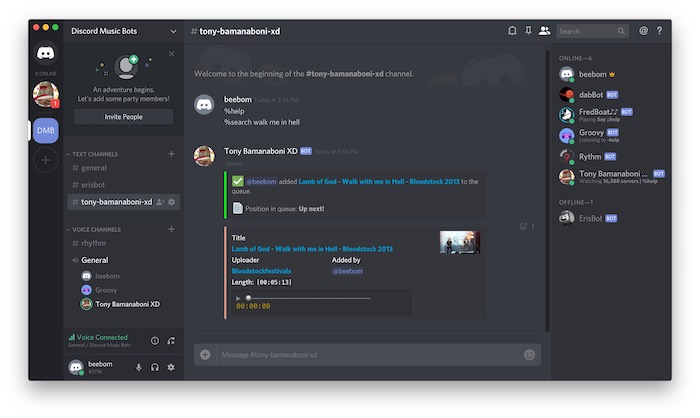 All that's good, but the feature that differentiates Tony Bamanaboni XD from other Discord music bots on this list is its ability to use audio filters to change the music output. You can use filters such as bass boost, pitch, and speed among many others. If this is a feature that you need, then you should click on the link below to try it out.